Leading Regional Newspaper uses Azimap
We're delighted to announce that the Irish News, a leading regional newspaper used Azimap to publicise the location of RHI applications.
The Irish News which is read by an average 160,000 people daily is Northern Ireland's best performing newspaper, according to the industry's monitoring bodies the Target Group Index and Audit Bureau of Circulations. The newspaper now sells more papers in Northern Ireland than the Belfast Telegraph or Newsletter and is the second best performing regional paper in the UK behind the Leicester Mercury.
Which is why we're delighted that the Irish News choose Azimap to publicise the location of non-domestic RHI (Renewable Heat Incentive) applications.
The RHI scheme changed the political landscape of Northern Ireland, due to it potentially costing tax payers 500 million pounds. The scheme has left the electorate looking for answers as to where and who has these boilers installed and why was the scheme not suspended sooner.
The heat and circular map which has been embedded on the Irish News and other media outlets shows the geographic location of non-domestic RHI applications.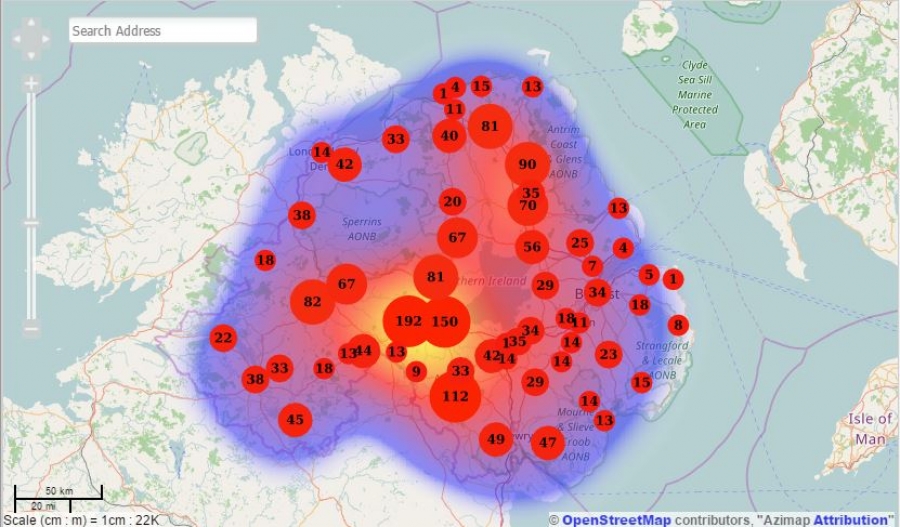 The data which was requested by the BBC Radio Ulster Nolan Show, was of public interest due to the questionable circumstances surrounding the first minister and the level of interest / relationship the party had in the scheme.It is anticipated that the details of who has the boilers installed will be released and when this becomes available the map will be updated to display this information.
We are delighted that the Irish News has used Azimap to share this information with their readers and we look forward to creating maps that support investigative journalism in the near future.
If you have any questions regarding how your spatial data can be digitised, published and shared on dynamic web maps get touch.