We're delighted to announce with immediate effect the release of Azimap 5.0.
The 5.0 release of Azimap focused on user experience, streamlining workflows and the development of new functionality.
As part Azimap's 5.0 roadmap release we're delighted to announce that the following functionality is now available within Azimap with immediate effect for all existing customers, those on free trials and for anyone who would like to sign up to try Azimap free for 30 days.
Route Optimisation
The route optimisation tool, enables organisations to identify the most efficient route to their destination by time. Developed using Open Source Routing Machine, routes are optimised by driving time and enables logistic handlers to optimise routes for moving vehicles by driving time and journey requirements such as single or multiple trips. The route optimisation enhancement feature also takes into consideration the rules of the road for example traffic lights, one-way streets and speed restrictions.
Swipe Layer
The swipe layer enhancement, provides map users with the ability to visually compare layers by swiping left or right. For example, users can easily visualise and analyse differences on the earth surface following natural disasters such as flooding, gorse fires, landslides etc.
Lasso feature selection
Being able to select multiple features to establish relationships in data is an important function within any GIS professional's role. However, if features are clustered together this can be extremely difficult when using the box select tool, which is why we're delighted to announce the release of Lasso select. Using the Lasso select feature, users can draw around the features they need to analyse which are then returned in a list view. Enabling the map editor to quickly zoom to and view specific feature information.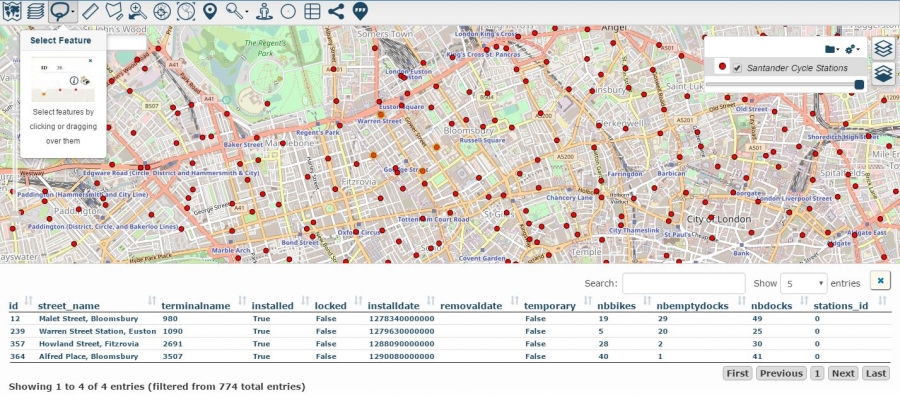 Group layers
Individual layers can be added to layer groups. By adding closely related layers to a layer group, those layers can be treated as a single entity on a map. For example, a layer group of utility layers such as gas mains, water mains and telecom lines could be related together in a group. This group can then be treated as a single utilities layer on the map.
Additional functionality and enhancements
In addition to the new features, the Azimap 5.0 release incorporates significant feature and user interface enhancements which includes –
Export layer as a TAB file, enable enabling administrators to export layer information as SHAPE, Spatial CSV or TAB
Create new data layers based on the results of the spatial queries
UI enhancements includes
Map preview in list view
Intuitive dashboard to quickly enable the account holder to navigate to current or create new map
Map sharing workflow and presentation
Extending image map capabilities to allow administrators to upload multiple images per feature
David McQuillan Managing Director of Azimap says –
"The Azimap 5.0 release focused on user experience, development of new functionality and feature enhancements. The requirements of 5.0 release were driven by customer feedback following workshops, which identified that our customers demanded a map first approach as opposed to data.
Listening to our customers enabled us to evaluate workflows and road-map to focus on our customer requirements.
As a result, the Azimap 5.0 is the most significant release to date as whilst focusing on customer feedback, it also strategically positions Azimap as an intuitive feature rich enterprise web GIS which can and should be benchmarked with the leading industry web GIS providers."
Details of the next release will be announced in the coming weeks. However, until then talk to us about your GIS project and let us give you a personalised demonstration of Azimap or meet us at an event near you.