We're delighted to announce that Azimap v5.3 is now available with immediate effect for all existing customers and for anyone who signs up to try Azimap Professional free for 30 days.
The 5.3 Azimap release includes significant enhancements focused on usability, user experience and most importantly workflow. This has been achieved by listening to customers feedback and by extending the search capabilities and introducing routing, drive time analysis, snapping, buffer proximity reports and GPX, Geodatabases, GeoJSON / JSON support.
The 5.3 Azimap release includes the most significant enhancements of 2017 to date and supports our vision of creating the most dynamic, feature rich and scalable cloud based GIS for our customers. Enhancements include -
Search Management
The launch of 5.3 offers enterprise customers with an opportunity to configure their preferred search provider such as Google, Photon (OSM), HERE, GeoDirectory (IE), AddressBase (GB) and OS Places (GB) for example. Customers can configure their search preferences within the admin centre.
Routing
The introduction of routing is a significant enhancement which is available to all customers. Using the routing feature customers can optimise single or multiple stop journeys based on approximate drive time. This is significant as it provides logistic handlers the ability to plan journeys based on the most optimum route and stop locations.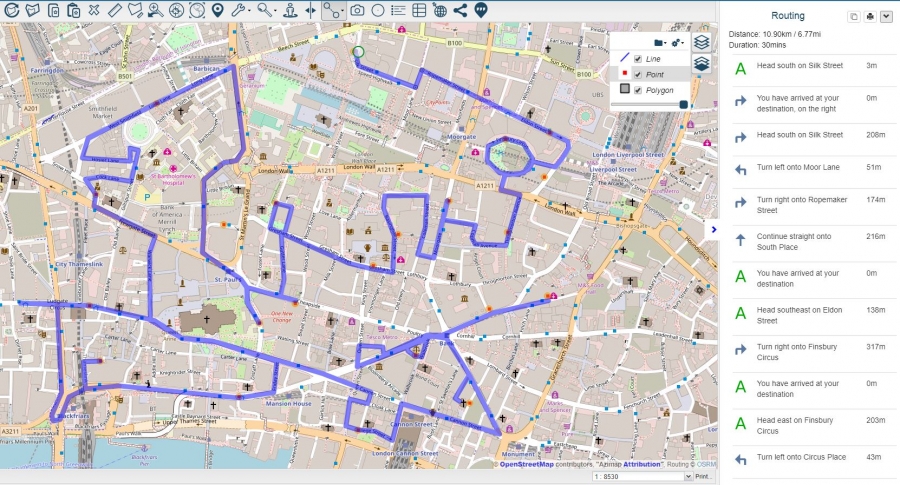 Using the routing tool map administrators can either manually enter the start point and stop locations. Alternatively, they can use the lasso select feature to select multiple points on the map. Upon using the lasso select the destinations will automatically populate the destination fields, before selecting their selecting starting point. The administrator can also generate an optimised route for their destinations based on their preferred journey.
The logistic handler can also sort their journey based on the order in which the driver should take. In addition, they can add their optimised route to an existing line layer for future reference in a few simple clicks.
Administrators can create and print Pdfs. of their drive time analysis.
Drive Time Analysis
To accompany routing, we have introduced drive time analysis which again is available for all customers. The main benefit of drive time analysis is that it enables administrators to determine how far you can drive in minutes from a specific location. Drive time analysis can be based on a single journey, a journey with many intervals or a group of multiple stops from selected features.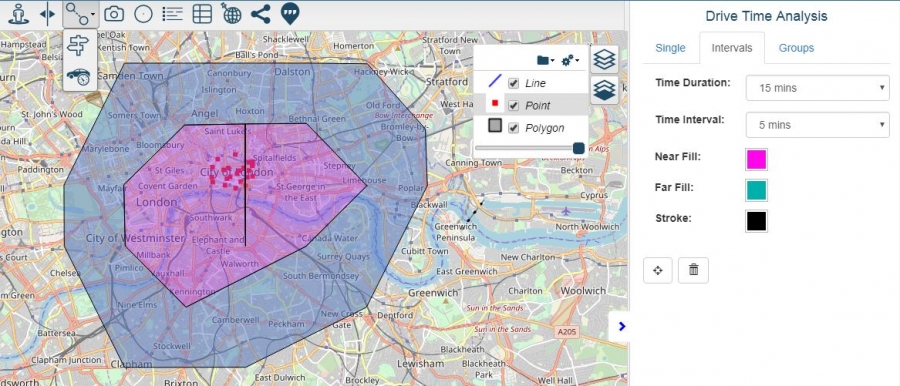 Snapping
The introduction of snapping provides editors to draw new features that snap to existing features to allow for more accurate capture of data for planning and reporting.
Snapping is available on both line and polygon features when the editor draws an adjoining polygon or line.
Proximity Reporting
The introduction of the buffer reporting tool, enables users with an opportunity to search the proximity of a feature in meters, feet, kilometres or miles. The results are displayed in a table with separate tabs for each layer within the buffer feature zone with features within the defined buffer area, enabling the map administrator to quickly select and zoom to the feature by selecting it from the list view. The data can then be exported to a tabbed excel report.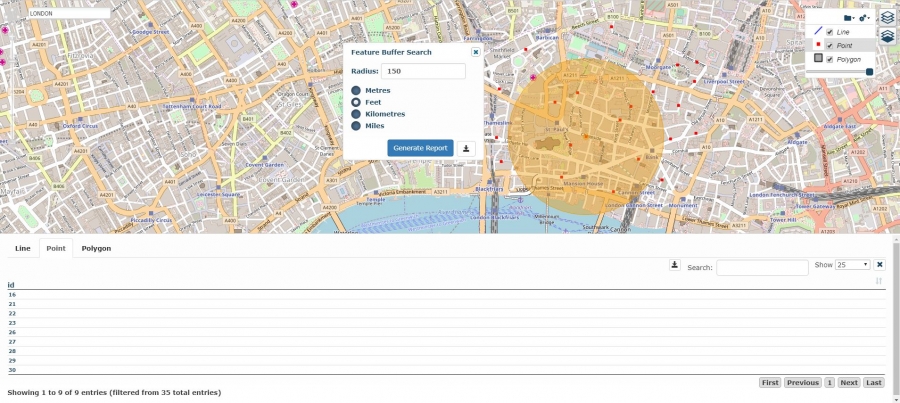 Enhanced Import Process
Azimap now imports data using a separate thread. As such there is no need to wait on your upload to complete, as we will send an email when your data has been imported successfully. As such you can continue to use the application fully while the import is processing.
Import File Types
Also included in the 5.3 release is GPX, GeoJSON / JSON and Geodatabase import support.
What Next
The next release will primarily focus on extending the active directory integration. However, with qGIS integration and the impending remote data capture app currently in development, this clearly cements our vision to become a leader in cloud based GIS.
To help you get started with the latest enhancements explore our help documentation, alternatively email support@azimap.com to request onboarding assistance.
If you're new to Azimap sign up for a free trial to understand the value of your location information.