We are delighted to announce that Azimap 5.5 is now available for use with immediate effect for all existing customers and anyone who signs up to try Azimap Professional, free for 30 days.
Azimap 5.5 introduces a number of User Interface enhancements that significantly improve the user experience, with more streamlined workflows and increased mobile usability, improving the accessibility of Azimap for users on Tablets or Smartphones.
Additionally, version 5.5 sees the inclusion of a number of major new features and enhancements, most notably the launch of the all new Azimap Data Library. Further new features and enhancements, include:
Data Library
The all new Data Library will change the way that Azimap users are able to access, view and analyse publicly available open data. Accessible directly from your Data Catalogue, the Data Library will be host to a number of wide ranging public datasets, covering everything from census and population statistics to forestry and lover cover data.
The Data Library provides direct links to the datasets which can then be imported as a layer to the map of your choice, removing the need to manually search multiple sites for the right data in the correct format. Users will now be free to spend more time analysing data and creating the maps that matter to them.
Upon this release, the Data Library will only have a limited number of datasets available to our users. We are committed to continually updating and growing the Data Library over time as more open data sources are discovered or released, providing our customers with a comprehensive, free and easy to use data source.
Improved Coordinate Search
Being able to accurately search your maps for important locations is vital to ensuring that information is analysed, disseminated and reported on correctly. As a result, improvements have been made to the Zoom to a location functionality. It is now possible to search a map by any coordinate system of your choice, ensuring your searches always correspond to the same coordinates as your data. Additionally, the mouse hover coordinate display is also configurable to the coordinate system of your choice.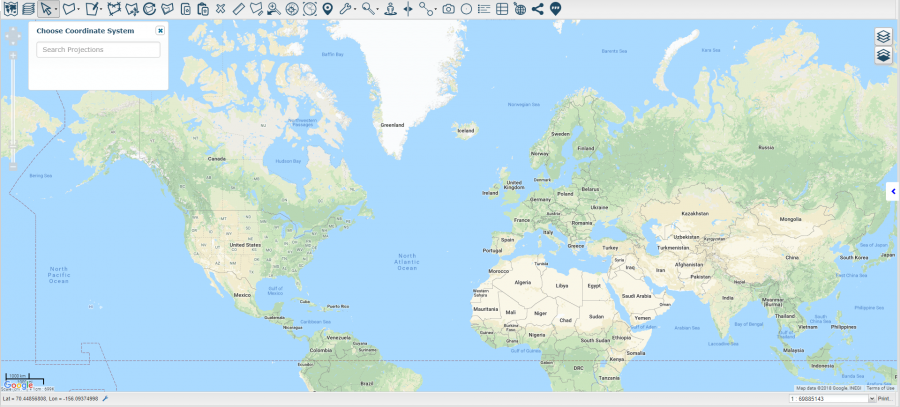 New Add Layer Workflow
We have been working hard to make adding new and existing layers to your map easier than ever before. With a completely redeveloped workflow that now allows multiple layers to be added in one go and the new instant search functionality, users will be able to effortlessly create new maps and improve their organisational efficiency.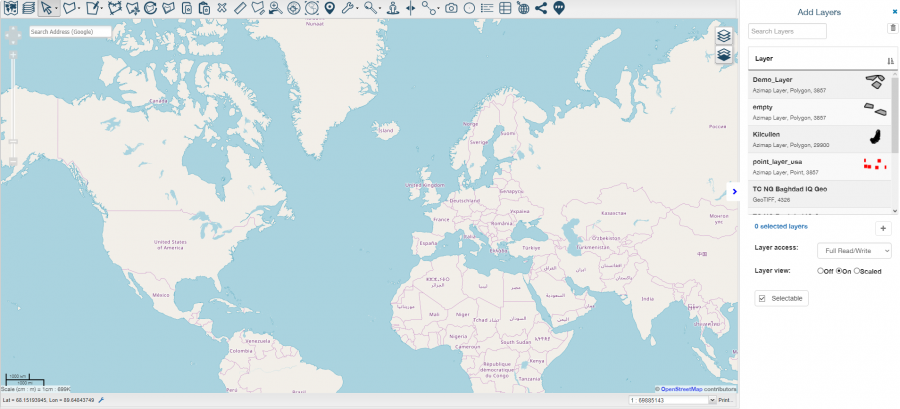 Visual Improvements
The latest Azimap release also introduces a host of visual improvements that deliver an enhanced user experience. Users will notice some of the main improvements on their Map Portal and Data Catalog screens. Here, we have introduced a new preview mode to help users easily identify the map or layer they wish to work on, alongside more descriptive map and layer information which now display the layer feature type, data format, layer projection and the number of layers present on a map. Other improvements have made it simpler to discover when a layer or map were last modified and the new smart search functionality has made finding specific maps or layers, effortless.
Additional Improvements
Alongside the major new feature releases and system improvements, Azimap 5.5 also incorporates a number of further improvements, including:
New faster routing, including reverse geocoding
Improved error messages and user feedback
Overhauled admin screens which are now fully mobile responsive
The first new release of 2018 confirms our commitment to creating a dynamic, feature rich and scalable web GIS for our customers. Discover the latest features and enhancements for yourself by requesting a personalised demonstration of Azimap or by signing up for a free 30 day trial or alternatively come and chat to us at an event near you.