We are delighted to announce that Azimap version 5.7 is now available for use with immediate effect for all existing customers and anyone who signs up to try Azimap Professional, free for 30 days.
The latest launch includes the usual bug fixes and minor enhancements to ensure that Azimap runs smoothly for all our customers whilst we have also ensured that all accounts have now been brought into line with the new GDPR legislation.
Additionally, version 5.7 introduces a number of major new features, confirming our commitment to provide the most feature rich and powerful web GIS available. New features released in Azimap 5.7 include:
Sketch Layer Tool
Our all new sketch layer tool enables users to draw temporary features (points, lines or polygons) onto maps. Once drawn, text annotations can be added providing further descriptions about each individual feature. These can then be saved locally or shared with other users via a web link.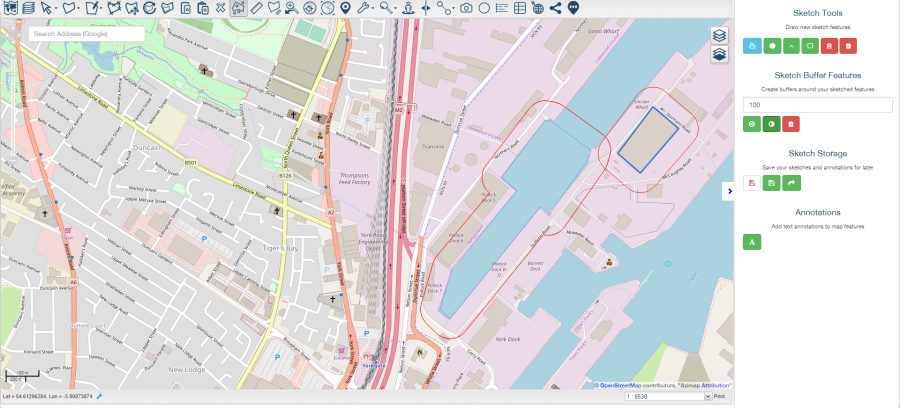 The sketch layer tool will help organisations and individuals to significantly improve project collaboration. With sketch layer, teams in one department or location can create and share project updates on a map which can then be confirmed by a team in another location or department. Confirmed changes will then be instantly updated to ensure all colleagues are working to the same data and information.
The sketch tool will significantly enhance collaboration in organisations that undertake projects off-site, enabling visual updates to be provided to colleagues back in the office.
Speed Limit Tool
Newly added alongside our existing routing and drive time analysis tools, the speed limit tool enables users to check the speed limit of any road of interest to them at the click of a button. Using the tool, simply selecting the road of interest will bring up the maximum speed limit, the type of road and its name.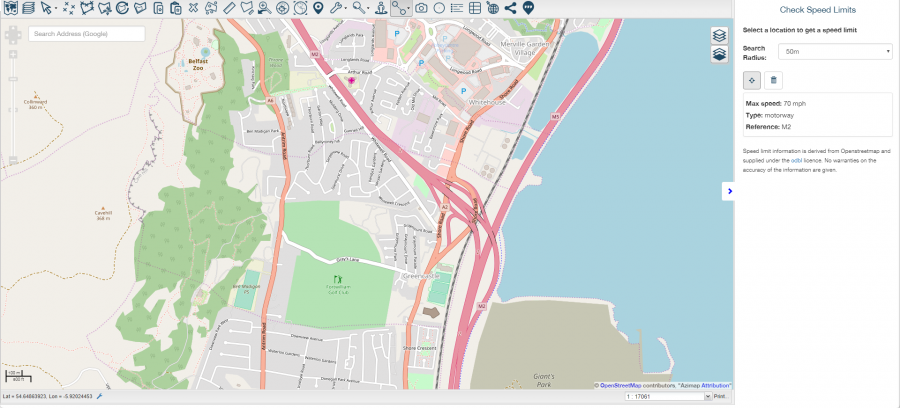 The new tool will help organisations to improve their planning of external works helping to ensure the safety of staff whilst operating off-site. By identifying the speed limits of roads where work is to take place, organisers will be able to advise staff on the appropriate safety measures to take, the equipment needed or for the need to introduce temporary traffic calming measures to be implemented to further protect colleagues.
Speed limit information is derived from OpenStreetMap and no warranties on the accuracy of the information can be given.
Data Joins
The new data joins tool enables users to join disparate datasets and link information without the need to use third party tools or software. Users are able to easily join the information contained within 2 datasets by linking their corresponding columns. The data joins tool will help to save users valuable time and effort along with any associated costs from using third party tools, enabling them to focus on gaining valuable insights from their data.
The new tool will now enable organisations to merge data held in spreadsheets with location information. Previously this data would have been hard to visualise or gain insights from but with the data joins tool such information can be given a new perspective. Meaningful insights can then be delivered by undertaking further analysis which can be used to help inform strategic business decisions.
Geocoding
The geocoding of address information is now possible in Azimap! Available under data imports, Azimap can now automatically match your address information to a location on the map. Correctly formatted CSV files can simply be dragged into the data importer and Azimap will handle the rest for you, all that is required is an address column.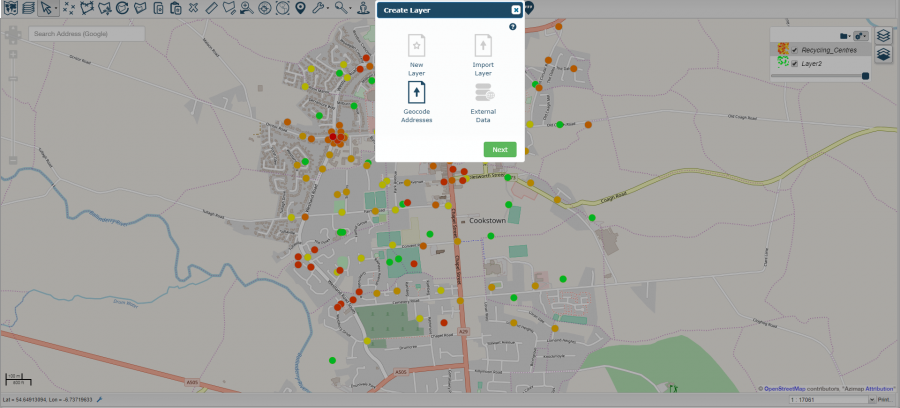 Azimap geocoding will help organisation save valuable time from manually digitising address data. Handling large numbers of addresses, the automatic geocoding of address reduces map creation time enabling organisations to focus on gaining new insights from their data.
Please note that data limits apply to the number of addresses that can be geocoded in any month. Users who sign up to a 30 day free trial of Azimap Professional are able to import up to 100 addresses to be geocoded, but different limits apply to our paid plans. Your remaining data limits can be seen in the admin section of your account.
Learn More
The second release of 2018 continues to confirm our commitment to providing a dynamic, feature rich and scalable web GIS for our customers. All the latest features and improvements of Azimap 5.7 can be experienced for yourself by signing up for a free 30 day trial or learn more by arranging a personalised demonstration to see how Azimap could benefit your organisation.