We are delighted to announce that the latest version of Azimap is now available for all existing customers and anyone who signs up to try Azimap Professional, free for 30 days.
The latest launch introduces several new features, system improvements and bug fixes to enhance the end-user experience. Users will notice a significant speed increase with data and layers loading faster as well as improved performance across all analysis tools and queries. Performance improvements have resulted in a 50% increase in speed across the whole platform!
This release furthers our commitment to provide our users with the most feature-rich and powerful web GIS available. New features released as part of Azimap 5.8.0.3 include:
Walking Route Generator
Quickly create optimised walking routes utilising open data. Following on from our driving route feature, users are now able to calculate the optimal walking route between two points. Routes can be generated between features or destinations on the map while the selection of multiple destinations will produce the optimal route between all of these along with walking directions. Unlimted route generation comes as standard within Azimap.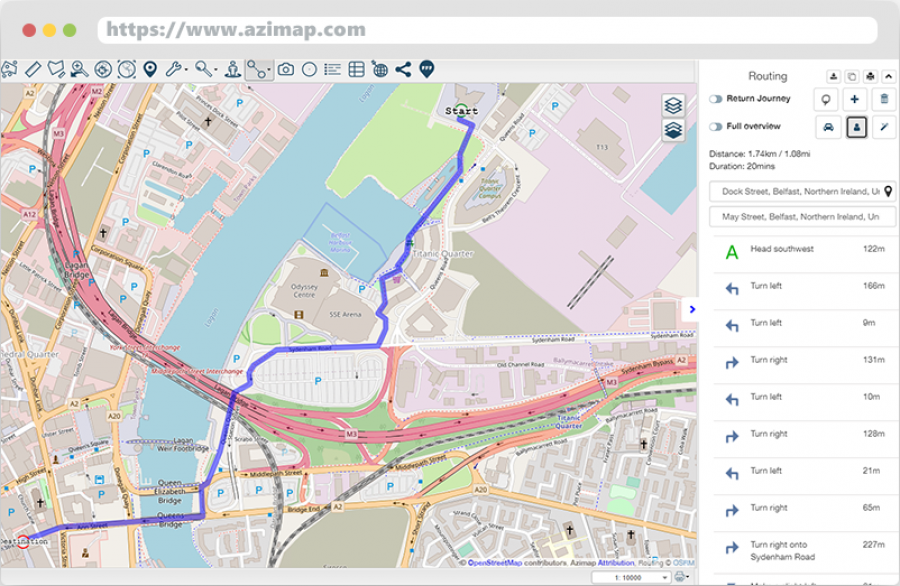 Walk Time Analysis
Quickly identify accurate walk times from any location. In addition to our Walking Route Generator, users can now create walking time polygons to determine how long it will take to walk from a specific feature or location. The Walk Time Analysis wizard enables users to set up regular time interval polygons to help identify different walking times from any point. Creating an isochrone map has never been simpler.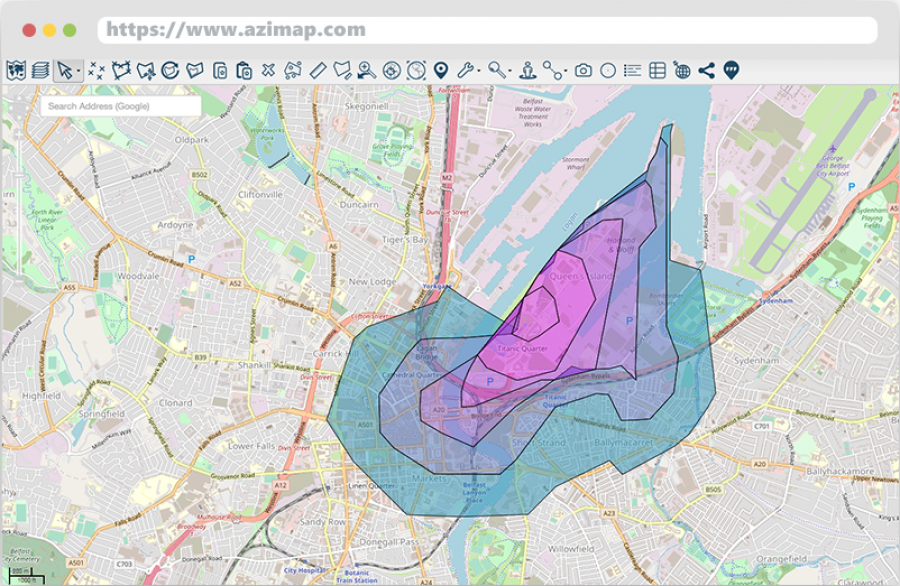 Improved Measurement Tools
New advanced Measurement Tools providing greater insight into your data. In addition to the existing line and polygon area measurement tools, users can now see results for the total perimeter length of any measured polygon as well as the length of the last segment of any line measurement.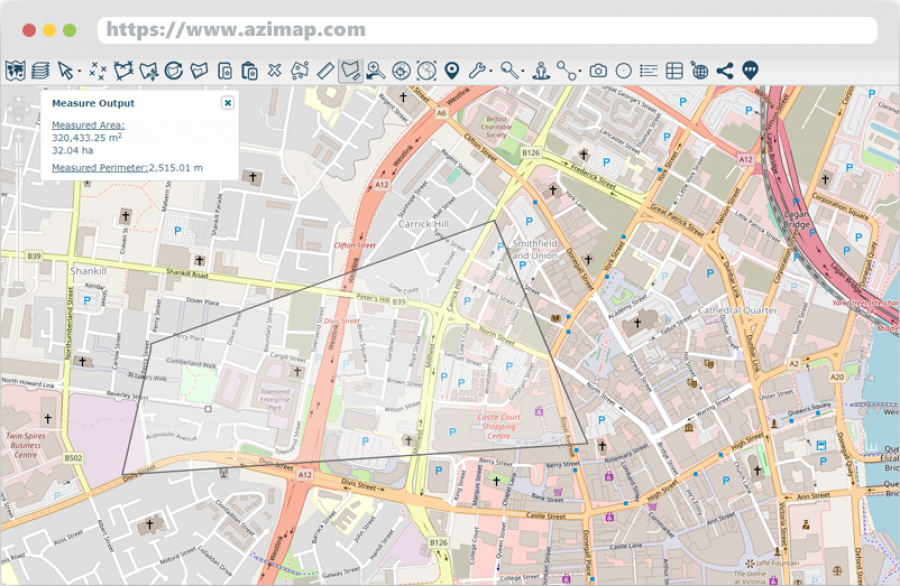 Advanced Layer View Controls
New Layer View Controls provide extra functionality to fully customise when and how viewers see select layers and data. Previously, users were only able to select layer views as on/off, scaled or permanent scaled. Now in our latest update, users have even greater control over how and when their layers are visible on any map.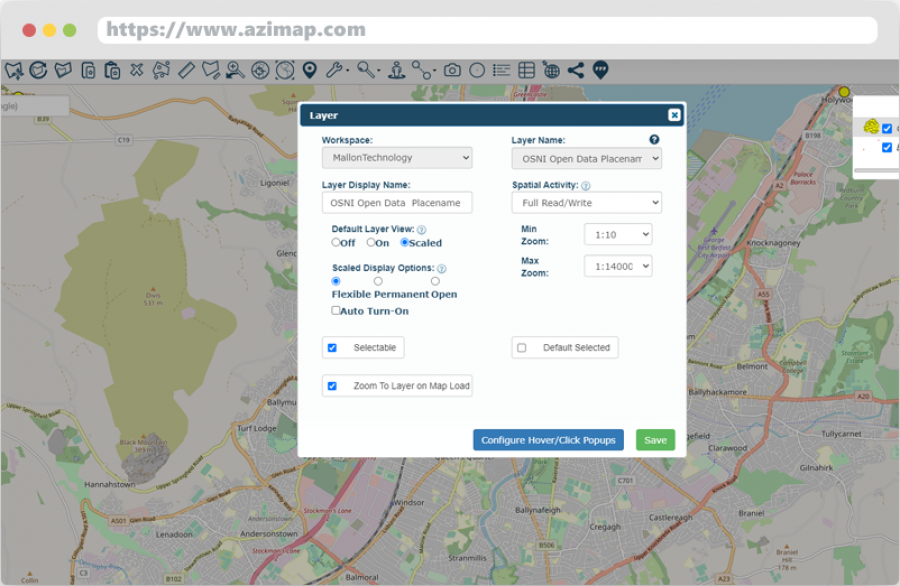 Dataview Restrictions
Restrict the data that will be displayed in feature pop-ups. Thanks to our new pop-up configurator users are easily able to select which data columns map viewers have access to when selecting features. Individual columns can be turn off/on at the click of a button, simplifying the process of restricting data access to specific maps or users.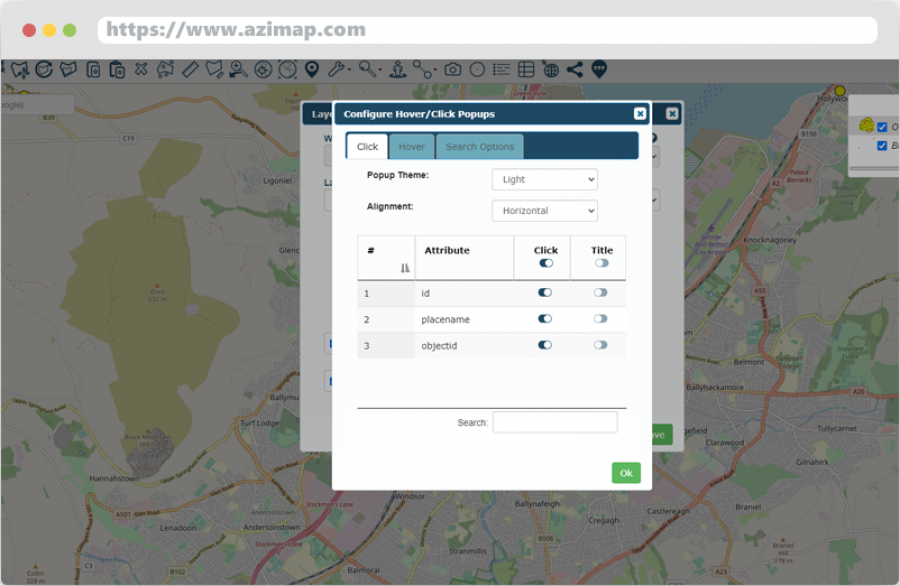 Define Map Scales
Set custom scales as displayed in the scale chooser. Users are able to edit and define the scales displayed in the scale chooser at the bottom of every map. As some map projections and layers use different scales, it is now possible to edit the description of these so that when a map is shared they will feature more internationally recognised and standardised scales.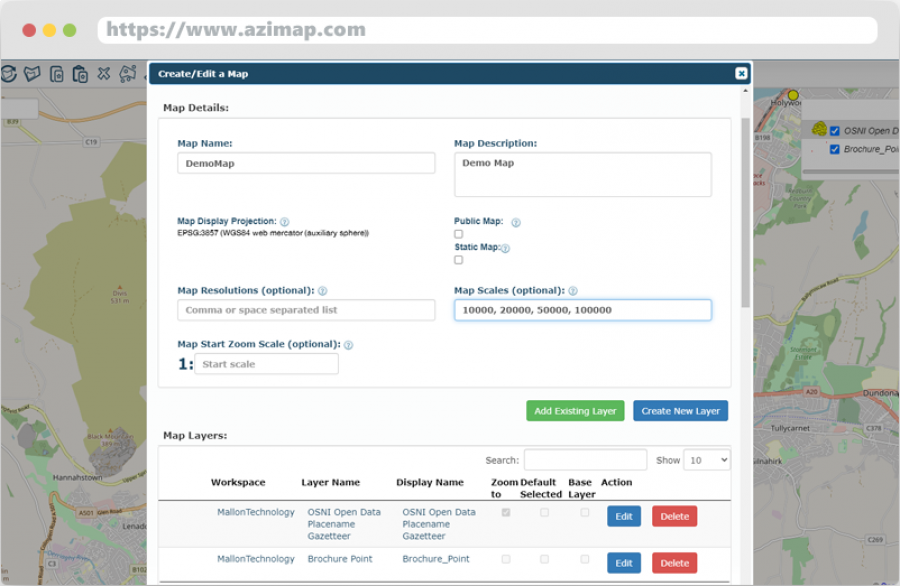 Enterprise Updates
Along with the updates above, Enterprise users can take advantage of further additional features. These include:
Custom Search Definitions - create any type of search on your data including results that support categorisation
Link to Layers - link directly to a layer defined in Geoserver on any Azimap map
Recalculate Layer Configurations - changes to a maps database can now be recalculated and updated on a map to reflect any alterations
If you wish to learn more about the updates available in the Enterprise account, please get in touch with us below.
Experience Azimap
Would like to experience the latest updates included in the new version of Azimap for yourself? Try them today by signing up to your free 30 day trial of Azimap Professional.